Research for the Condensed Matter section (Chemistry and Physical Chemistry) in SOLEIL is based on the use of several synchrotron radiation-based probes: diffraction, absorption and photoemission spectroscopies, for the description and understanding a variety of systems and their changes under well-controlled conditions.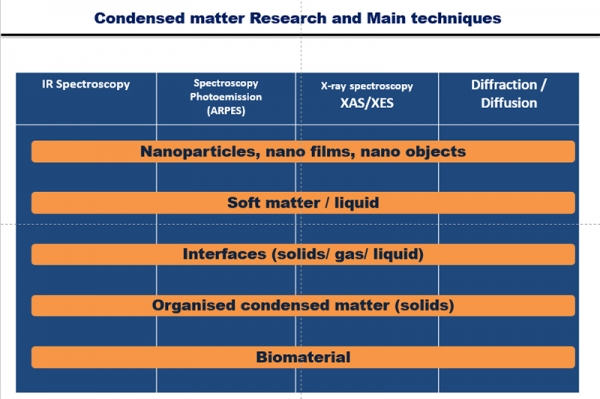 Condensed matter Research and Main techniques:
Fundamental studies
The activity of the section thus concerns fundamental studies on model materials, as well as studies related to applications within :
the fields of energy,
environment,
catalysis,
smart materials...
It also lies at the interface with the physical and life sciences.
Scientific areas
It concerns matter under a variety of forms:
nanoparticles,
soft mater,
liquids,
condensed matter,
biomaterials,
but also the solid/gas and solid/liquid interfaces as summarized below.

Our scientific activity also relies on PhD students (17 theses are completed or underway) and postdoctoral fellows as well as numerous close collaborators participating to the "in house" research.
So far, collaboration with various laboratories has been formalized and facilitated through funding programs (8 ANR or RTRA,…).
In the future, Synchrotron SOLEIL will also be inserted into the Paris-Saclay campus and in particular, our section will be part of the Department "Chimie Paris Saclay".
This Department will act as a cross-structure for 31 laboratories for the organization and development of research, training and innovation in chemistry. It includes personnel from

- 3 Universities:
South Paris,
Versailles Saint-Quentin and
Evry-Val d'Essonne,

- 3 large schools:
Ecole Polytechnique,
Ecole Centrale and
ENS Cachan and

- 4 large public research organizations:
CNRS,
CEA,
Institut Curie and
INSERM.

Indeed, this large structure will favor further the collaboration with nearby laboratories and will allow the renewal of our internal research.