Despite the health situation, SOLEIL will once again be alongside Île de Science for this new edition of the Science Fair!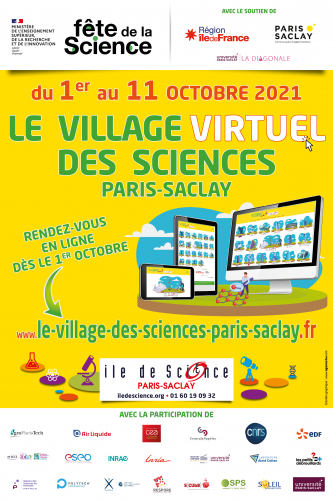 For the second year in a row (and we hope the last), the Île de Science Association was forced by the health situation to make its traditional Science Village virtual.
It is therefore unfortunately not at Moulon that visitors are expected, but on the dedicated page beginning Saturday 2 October.
On the program: videos, mini-conferences, virtual tours, online games… SOLEIL has made available its new videos on Julie's Thesis, a series that follows the adventures of a doctoral student, Julie Gordon, in the different laboratories and museums in which she works on her thesis subject.
SOLEIL also offers online presentations / quizzes for colleagues (4th and 3rd) and high schools, in order to discover in a fun way what SOLEIL is and how it works! Registrations are made with Île de Science directly with Isabelle Goulette.
Please note, these quizzes require the class to be equipped with internet, a video projector and a videoconferencing system (TEAMS).