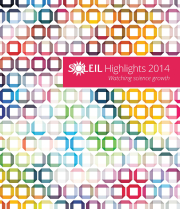 The 2014 International Year of Crystallography ends and gives way to the 2015 International Year of Light. Whatever the chosen scientific theme, it always enters the field of research conducted at SOLEIL..
Table of contents:
SURFACES, INTERFACES AND NANOSYSTEMS
16 PAYING WITH NANOMAGNETS AT THE INTERFACE: THE ROLE OF RARE EARTH ATOMS
18 NANO-RESOLUTION REVEALS THE ELECTRONIC STRUCTURE AND STACKING OF GRAPHENE ON C-FACE SiC
20 SURFACE INVESTIGATION ON Gd4M8 SINGLE MOLECULE COOLER
22 ZERO LAYER GRAPHENE DECOUPLING INTO QUASI FREE STANDING GRAPHENE BY Si INTERCALATION
24 TOWARDS TOPOLOGICAL TWO-DIMENSIONAL METALS ON TRANSPARENT INSULATING OXIDES
26 WHEN CHEMISORBED MOLECULES DEEPLY DISTORT METALLIC SUBSTRATES: PENTACENE ON Cu(110)
PHYSICOCHEMISTRY OF LIQUIDS, SOFT MATTER, NANOCHEMISTRY
30 A NEW HYBRID MATERIAL: GOLD NANOPARTICLES CONNECTED BY SINGLE MOLECULE MAGNETS
32 IN SITU HYDRATION PROCESSES IN PROTON CONDUCTING NANOSTRUCTURED IONOMERS
34 TIN OXIDE NANOPARTICLES FORMATION SCRUTINISED BY COMBINED RAMAN-XAS SPECTROSCOPIES AND SAXS
36 TAILORING CHEMISTRY UNDER PRESSURE: WELL-KNOWN INGREDIENTS, UNKNOWN REACTIONS
38 ATMOSPHERIC CORROSION OF ANCIENT IRON
40 ACTIVE SITES OF BIOMIMETIC IRON CATALYSTS
BIOLOGY AND HEALTH SCIENCES
44 INHIBITION OF RIBOSOMES: NEW STRUCTURES OF THE EUKARYOTIC RIBOSOME WITH TRANSLATION INHIBITORS
46 STRUCTURAL STABILITY OF TDP-43 AS A CAUSE OF NEURODEGENERATIVE DISEASE
48 TRYPANOSOMA BRUCEI RRP6 PROTEIN: CRYSTAL STRUCTURE AND ENZYMATIC ACTIVITY
50 A REVISED, COMPREHENSIVE MECHANISM OF FIBRIN NETWORK FORMATION FROM COUPLED TIME RESOLVED X RAY/LIGHT SCATTERING DETECTION
52 EXOPOLYSACCHARIDES AUTO-ORGANIZATION RULES THE PROTEUS MIRABILIS PERIODIC AND SYNCHRONOUS SWARMING
54 ASCORBATE IS THE KEY TO UNLOCK Fe TRANSPORT IN SEEDS
ATOMIC AND MOLECULAR PHYSICS, DILUTE MATTER, UNIVERSE SCIENCE
58 HIGH RESOLUTION LABORATORY SPECTROSCOPY OF HEXAMETHYLENETE-TRAMINE AS SUPPORT FOR ASTRONOMICAL OBSERVATIONS
60 CHIRAL PHOTONS AS TRIGGER OF LIFE'S ASYMMETRY?
62 HIGH-RESOLUTION OSCILLATOR STRENGTH MEASUREMENTS OF THE STRONGEST VUV ABSORPTION BANDS IN FIVE ISOTOPOLOGUES OF CARBON MONOXIDE
64 A NEW WAY TO IDENTIFY THE ATOMIC ORIGIN OF MOLECULAR VALENCE ELECTRONS
66 INVESTIGATING THE SURFACE OF FREESTANDING NANO-OBJECTS
68 DOPPLER EFFECT IN AUGER EMISSION FROM NEON: FROM THE MACROSCOPIC TO THE MICROSCOPIC WORLD
PHYSICS AND CHEMISTRY OF HARD CONDENSED MATTER, EARTH SCIENCES
72 THE MAGNET THAT ISN'T
74 ELECTROMECHANICAL BEHAVIOR OF NANOPARTICLE BASED RESISTIVE STRAIN GAUGES
76 SYNCHROTRON X-RAY FLUORESCENCE IMAGING DISCRIMINATES FOSSIL TISSUES
78 μ-XANES OF Fe REDOX STATE IN SERPENTINES DURING SUBDUCTION
80 METAL TRACES REVEAL THE PRESENCE OF LOST MEDIAEVAL COPPER ARTEFACTS
82 O K-EDGE NRIXS: A SENSITIVE PROBE OF NON-BRIDGING OXYGEN ATOMS
MODELING, METHODOLOGY AND INSTRUMENTATION
86 A MODERN DIFFRACTION GRATING SPECTROMETER FOR "PHOTON-IN − PHOTON-OUT" STUDIES BETWEEN 50 eV AND 1000 eV
88 A HIGH-EFFICIENCY B4C/Mo2C ALTERNATE MULTILAYER GRATING ON DEIMOS BEAMLINE
90 NEAR-FIELD IMAGING AND SPECTROSCOPY WITH BROADBAND SOURCES
92 TOWARDS ADVANCED AND COMPACT FREE ELECTRON LASERS
94 MICROBEAM SLITS
SOURCES AND ACCELERATORS DIVISION
98 MAGNET POWER SUPPLIES RELIABILITY IMPROVEMENTS AT SOLEIL
100 WHAT ABOUT THE SOLID STATE AMPLIFIER ACTIVITIES AT SOLEIL?
102 TWIICE, A SUCCESSFUL FIRST EDITION AT SOLEIL