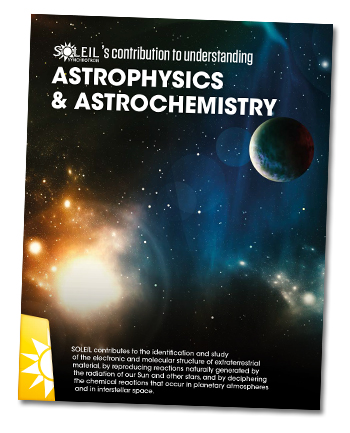 More than 10 years after the opening to our users, SOLEIL takes stock of the important results obtained thanks to the beamlines during this period. Thus, we invite you to discover a series of thematic brochures presenting the major scientific contributions of Synchrotron SOLEIL to several society challenges. After the Medical Diagnosis and Prognosis, the Agro-Food sector and the Quantum Materials, the 4th issue is about SOLEIL's contribution to understanding Astrophysics & Astrochemistry.

SOLEIL contributes to the identification and study of the electronic and molecular structure of extraterrestrial material, by reproducing reactions naturally generated by the radiation of our Sun and other stars, and by deciphering the chemical reactions that occur in planetary atmospheres and in interstellar space.
20 pages present examples of research results, key figures as well as the particular contribution and strategic position of SOLEIL.
With a focus on...
Helping to decipher signals of molecules in space.
Cosmic dust, sources of knowledge.
Reproducing astrophysical environments, to better understand them
The molecules of life – delivered from space?
KEY FIGURES
8

of SOLEIL's 29 beamlines are involved in this research.

Nearly 200

scientific articles have been published on this area of study since 2008.

6 billion

light years, the distance to quasars whose signals are compared with data obtained at SOLEIL.