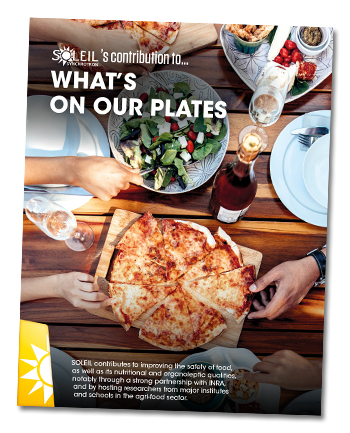 More than 10 years of opening to our users: here is for SOLEIL an opportunity to take stock of the important results obtained thanks to the beamlines during this period. A series of thematic brochures has been created to present the major scientific contributions of Synchrotron SOLEIL. After the Medical Diagnosis and Prognosis, discover in this #2 issue what SOLEIL brought... on our plates!

SOLEIL contributes to improving the safety of food, as well as its nutritional and organoleptic qualities, notably through a strong partnership with INRA, and by hosting researchers from major institutes and schools in the agri-food sector.

We invite you to discover SOLEIL's contribution to these major societal challenges.

16 pages present examples of research results, key figures as well as the particular contribution and strategic position of SOLEIL.
With a focus on...
Food safety & allergies – Do we really know what's on our plates?
Milk & dairy products - Maintaining their nutritional qualities and understanding their assimilation by the body.
Fried foods, meat and foie gras - Reducing caloric intake, optimizing cooking processes.
The mouthfeel of astringency - Deciphering the mechanisms underlying food flavor.
KEY FIGURES
5

of SOLEIL's 29 beamlines are involved in this research.

15

types of food are being analyzed at SOLEIL: sausages, candy, wine…

58

scientific articles on this theme have been published since 2006.