The development of structured materials on a nanometric scale by molecular brick self-assembly is a major scientific challenge that meets many of todays societal demands. These compounds involve a variety of interaction combinations that can lead to the emergence of innovative structures or even functionalities.
However, due to their structural complexity, their characterization is often limited. In this context, researchers from the IPCM (Sorbonne University) and ENS Lyon, with support from the SWING beamline, have characterized by scanning small angle x-ray scattering of innovative multi-scale composite nanomaterials composed of polyoxometallates (POMs).
The rational design of POM-based nanostructure assemblies, nanometric molecular oxides, as functional elementary bricks can be of particular interest due to their multiple properties (notably redox) and fields of application. However, they are a significant synthetic challenge, due to the multi-charged nature of POMs.
IPCM researchers have developed POM-based covalent hybrids and used the organic function grafted to the inorganic structure to initiate self-assembly reactions. This is accomplished by combining POM-based hybrids with geometrically predefined chelating groups with metallic cations with adapted vacant coordination sites. Thanks to the wide variety of metallic complexes and the reversibility of metal-ligand bonds, coordination chemistry is a key tool in the development of self-assembled systems. This approach enables the dimensional control of the assemblies by means of an appropriate POM-based hybrid design.
Due to the size of the assemblies formed, ranging from nm to a few hundred nm, new characterization methods for these compounds had to be implemented. Among these, scanning small-angle X-ray scattering (SAXS), available on the SWING beamline, is a preferred experimental technique, since it can be used to study the structural properties of nanomaterials of between 1 and 100 nm. This technique has made it possible to accurately characterize different types of self-assembly by directed coordination of POM-based hybrids.
A first assembly was developed from a ditopic hybrid (with two chelating functions). As a result of its reaction with a neutral complex assembler, the trans-[Pd(MeCN)2Cl2], a unique discrete species is formed. This assembly, a molecular triangle, was characterized by a combination of several analysis techniques, such as Diffusion-Ordered Spectroscopy NMR(DOSY-NMR) and Ion-mobility spectrometry–mass spectrometry (IMS-MS), as well as molecular modelling (Figure 1).
The molecular triangle SAXS signal was accurately reproduced from the atomic coordinates of a structure optimized by molecular modelling, thereby validating the usefulness of this technique in characterizing this type of assembly.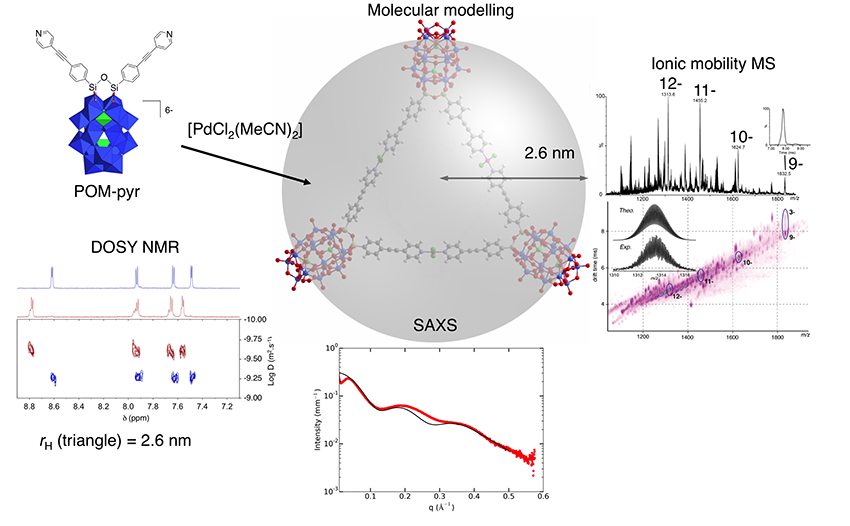 Figure 1: Triangular self-assembly formation from the ditopic hybrid with two pyridine functions (pyr) and illustration of the various self-assembly analysis techniques. The red SAXS spectrum corresponds to the experimental signal of the self-assembly, the black spectrum corresponds to the theoretical signal (CRYSOL) of the optimized structure of the molecular triangle.
Subsequently, the study of the complexation of an analogue POM-based hybrid with two terpyridine functions (tpy) by divalent cationic linker complexes (such as Fe(II) or Co(II)), revealed that the formed molecular polygons (combination of molecular triangles and squares) were susceptible to aggregation driven by electrostatic interactions according to the solvent nature and so form novel multi-scale molecular architectures. The aggregation of metallomacrocycles results from the competition between their solvation energy and their intermolecular electrostatic interactions. Finally, the form of these hierarchical assemblies could be modified by adjusting the redox status of the metallic cation linker (consequently, modifying the electrostatic interactions between primary supramolecular assemblies) (Figure 2).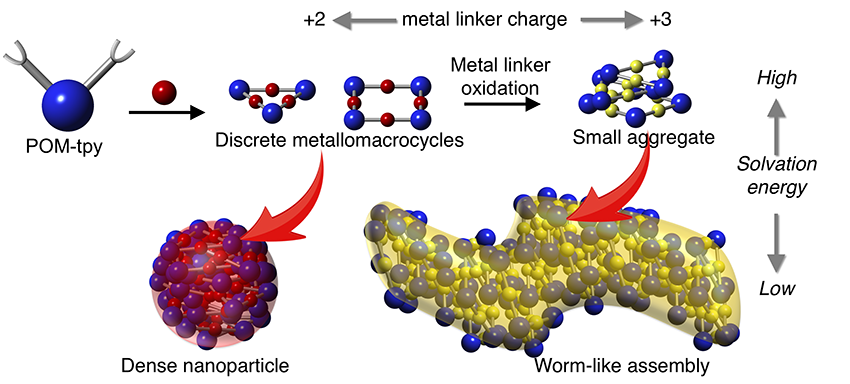 Figure 2: Schematic representation of the formation of coordination-directed hierarchical self-assemblies from a hybrid presenting two terpyridine functions based on the solvent nature and the redox status of the metallic cation linker (cobalt).
While hierarchical assemblies with divalent cation linkers are isotropic particles with a radius of approximately 4 nm (characterized by SAXS and TEM), those from trivalent complexes are in the form of elongated and flexible particles with a 6.5-7 nm section resulting from the aggregation according to a preferential direction of discrete metallomacrocycles (Figure 3).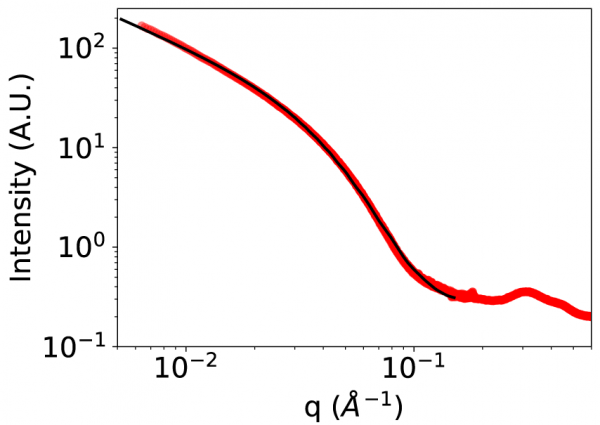 Figure 3: Comparison of the experimental SAXS vermicular assemblies signal in a DMSO/MeCN 1/4 combination (red curve) with the theoretical signal (obtained from SASview software) using a flexible cylinder model with a radius of 3.4 nm (polydispersity 35%, black curve).
These vermicular assemblies are selectively obtained in aqueous media, regardless of the redox status of the linker cation. These compounds have an amphiphilic character, and in an aqueous medium lead to the encapsulation of polyaromatic compounds that are completely insoluble in water, paving the way towards their potential application in the transport of molecules of biological interest.
During the course of this work, SAXS has been successfully used to characterize supramolecular architectures, enabling the investigation of a wide variety of structures ranging from individual POMs to wide aggregate structures via discrete assemblies (molecular polygons).