On March 9, 2023, SOLEIL welcomed 15 college and high school teachers from the Versailles Academy for an unprecedented training day on the theme of art restoration and conservation. This is the first course that SOLEIL organizes in collaboration with another cultural structure. And what a structure, since it is our neighbour, the Palace of Versailles!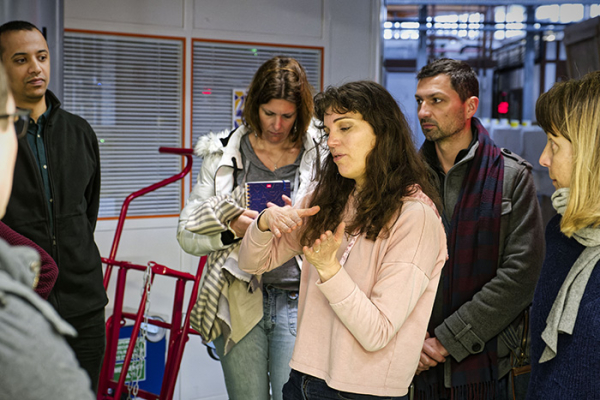 Floriane Bernardini, relay teacher at SOLEIL, in the midst of explaining to the trainees how the PUMA beamline works. © V. Moncorgé/SOLEIL
Before this discovery of the synchrotron, the trainees had been welcomed at the Palace of Versailles on Monday March 6 for a day on the theme "Light: a compromise to be found between exhibition and preservation of heritage objects". The teachers thus had the opportunity to benefit from a privileged visit to the rooms, usually crowded, which are reserved for schoolchildren on Mondays. Danilo Forleo, Head of Preventive Conservation, and Lionel Coutou, Head of Lighting at the Palace of Versailles, took the lucky ones through the magnificent decor of the royal apartments and state rooms to explain to them the lighting strategies adopted to preserve these unique places but also show them the damage that, despite all the precautions taken, is still created.
At SOLEIL, light was no longer an enemy to be mastered but an ally in the study of ancient materials. The professors visited the PUMA, ANATOMIX and DIFFABS beamlines, whose teams explained how they are called upon for heritage studies. The chemistry laboratory also opened its doors, for practical workshops: an investigation of pictorial matter (pigments in particular) thanks to powder X-ray diffraction and Raman spectroscopy, implemented and commented on by Solenn Reguer, scientist on DIFFABS, and Stéphanie Blanchandin, head of the chemistry laboratories.

The participants particularly appreciated these days which allowed them to access, under privileged conditions, two original places, and to discover their "connections". Appointment is made for next year because the course has already been renewed!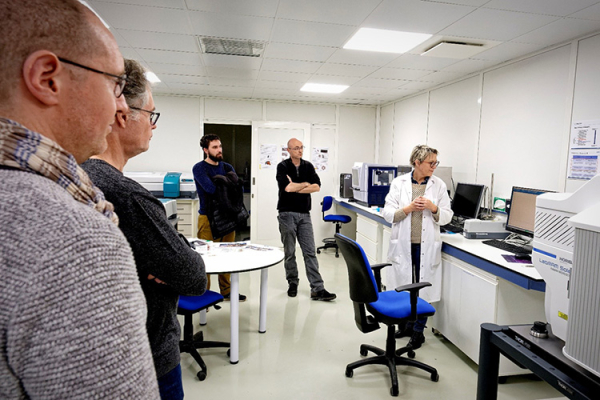 In the chemistry laboratory, Stéphanie Blanchandin shows how powder X-ray diffraction can be used to analyze pigments.
Photo of the Palace: © Jessica Kantak Bailey (Unsplash)