Submit your projects before 28/02 for a free-of-charge access to analysis techniques in heritage science at SOLEIL!
The IPERION HS, project funded by the European Commission under Grant n°871034 offers to European users access to high-level scientific facilities in the field of cultural heritage sciences. Three beamlines of SOLEIL are involved in the project (DIFFABS, DISCO and PUMA), , offering a wide range access to analytical tools using X rays or UV-vis wavelength. These beamlines enable direct analysis of cultural heritage objects and works of art, archaeological artefacts, palaeontological and paleo-environmental specimens, as well as microsamples.
The IPERION HS call for proposals is now open to all European users and closing on 28/02.
Find out more about the project and how to submit your proposal on the project promotion leaflet below.
More information about the call and eligibility requirements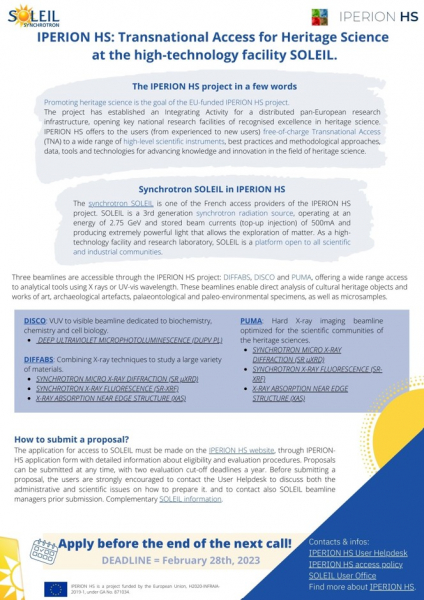 Promotional leaflet (165.45 KB)