March 2011.
With about 300 publications in 2010 and nearly 30 at the start of this year, SOLEIL is up there with the best in terms of performance and scientific productivity. Twenty beamlines will be available this year for the scientific community and industrial users aware of the possibilities of synchrotron radiation. This promises to be a busy year, although 2010 ended hectically, this becoming almost a tradition, with great excitement over our budget....
Download the PDF version (3.1 MB)
Contents:
Research at SOLEIL
At the core of lithium batteries
How to store electrical energy is the subject of intense economic and scientific research. The PULSSE project is part of this research field.
Read more (244.57 KB)

The Mott transition in the light of synchrotron radiation
Understanding this metal-insulator transition is essential, not only from a fundamental point of view but also to control the electronic properties of materials.
Read more (168.55 KB)
Know how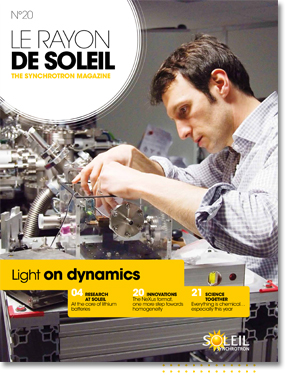 An in-vacuum wiggler for the PSICHE beamline
PSICHE beamline, expected to be available to users in 2012, will be partly dedicated to high energy X-ray diffraction under extreme conditions and partly to microtomography. its light source will be an in-vacuum wiggler, designed and built at SOLEIL.
Read more (134.07 KB)

Interview of J.-P. Ricaud, electrical engineer at SOLEIL
Specialist in electronic development, Jean-Paul Ricaud is in charge of the "synchronization machine" system.
Read more (140.86 KB)

Towards the generation of femtosecond pulses at SOLEIL
A new technique, called "slicing", allows the production of sub-picosecond pulses in a 3rd generation synchrotron. This technique will soon be available at SOLEIL.
Read more (205.54 KB)
Display of the possibilities on offer now and in the future on the SOLEIL beamlines, and examples of results obtained onTEMPO (p15), PLEIADES (p16), DISCO (p17), ODE (p18), SAMBA and SWING (p19)

Innovations
The NeXus format, one more step towards homogeneity
Interview of Stéphane Poirier, computer engineer at SOLEIL.
Read more (582.8 KB)

Du SOLEIL dans notre vie
TEMPO counts on solar energy
New generations of photovoltaic cells are being studied on TEMPO beamline.
Read more (270.7 KB)