January 20th and 21th, 2022
•
Synchrotron SOLEIL
Confirmed invited speakers to plenary sessions
Confirmed invited speakers to parallel sessions
Best student's poster Award
List of hotels (non-exhaustive)
The 16th SOLEIL Users' Meeting will take place on January 20th and 21th, 2022 at SOLEIL, if sanitary conditions permit it.
This invaluable forum for the synchrotron radiation users' community will provide the opportunity to exchange and learn about the evolution of the machine and the beamlines. It will be also the occasion to share scientific, technical and practical issues about the synchrotron radiation use.

We offer two types of registrations:
- Face-to-face meeting, with a number of limited seats to 90 people.
- By videoconference, with the possibility of online attendance to the various presentations and sessions.
Confirmed invited speakers to plenary sessions
Geosciences:
Karim BENZERARA - IMPMC, Sorbonne Université, Paris
"Studying interactions between life and minerals by scanning transmission x-ray microscopy"
Diluted matter:
Jean-François LAMPIN - IEMN, Villeneuve d'Asq - Université de Lille, Lille
"High resolution heterodyne and dual comb molecular spectroscopy at AILES beamline"
Confirmed invited speakers to parallel sessions
Ancient & New Materials (Cultural heritage / Structure / Electronic Properties / Surfaces & Interfaces
Alessandro COATI – SIXS beamline, Synchrotron SOLEIL, St Aubin, France
« Surfaces, interfaces and nano-objets: recent multi-technique studies, beamlines overview and anticipated evolutions in the context of the upgrade SOLEIL"
Hebatalla ELNAGGAR – IMPMC, France / Utrecht Université, Pays-bas
« 2p3d RIXS angular dependence at low-energy excitations: A method to identify the square peg in a round hole."
Myrtille HUNAULT – Synchrotron SOLEIL, St Aubin, France
« The role of SOLEIL in the study of cultural heritage materials — The case of the stained-glass windows of Notre Dame cathedral"
Dynamic, reactivity and Chemical analysis (Dilluted Matter & Chemistry)
Jérémy BOURGALAIS – LRGP, Nancy, France
"Providing mechanistic insights into the low-temperature oxidation chemistry by Synchrotron-based VUV PEPICO spectroscopy"
Benedikt LASSALLE - Synchrotron SOLEIL, LUCIA beamline
"Microfluidic tools for synchrotron-based experiments: applications to chemistry"
Damien FAIVRE - Institut de biosciences et biotechnologies, CEA Cadarache, France
« Time-resolved SAXS study monitoring the bio-inspired formation of magnetite nano-particles"
Life & Earth Sciences (Biology / Health & Environment / Geoscience)
Sylvain DELZON – INRAe, Bordeaux, France
"From moss to sequoia, X-rays reveal the metastability of sap transport under tension"
Anne HOUDUSSE - Institut Curie, Paris, France
"Allosteric tuning of myosin force feneration: New avenues to new therapies"
Frédéric JAMME – Synchrotron SOLEIL, St Aubin, France
« HELIOBIO Section »
Emmanuelle MONTARGES-PELLETIER – LIEC, Nancy, France
"Spatial distribution and speciation of REE in soils and REE accumulating ferns"
Scientific Committee
BIOLOGIE / SANTÉ

PATRIMOINE / ENVIRONNEMENT / ARCHÉOLOGIE / GÉOSCIENCES

Benoît MASQUIDA
Génétique Moléculaire Génomique Microbiologie - Strasbourg

Rozenn LE HIR
Institut Jean-Pierre Bourgin - Versailles

Simona RANERI
National Research Council - Institute of Chemistry of Organometallic Compounds – Pisa (Italy)

Rémi MARSAC
Université de Rennes 1 - Campus de Beaulieu - Rennes

MATIÈRE DILUÉE

PROPRIÉTÉS DE LA MATIÈRE ET DES MATÉRIAUX: STRUCTURE, ORGANISATION, CARACTÉRISATION, ELABORATION

Pierre ASSELIN
De la Molécule aux Nano-objets : Réactivité, Interactions et Spectroscopies - Paris

Héloïse DOSSMANN
Institut Parisien de Chimie Moléculaire - Paris

Amélie BORDAGE
Institut de Chimie Moléculaire et des Matériaux d'Orsay - Orsay

Fabien CHEYNIS
Centre Interdisciplinaire de Nanoscience de Marseille - Marseille

PROPRIÉTÉS ÉLECTRONIQUES ET MAGNÉTIQUES DE LA MATIÈRE – SURFACES ET INTERFACES

CHIMIE ET PHYSICO-CHIMIE – RÉACTIVITÉ IN SITU – MATIÈRE MOLLE

Emmanouil FRANTZESKAKIS
Université Paris Sud - Orsay

Deborah PIERUCCI
Centre de Nanosciences et de Nanotechnologies - Palaiseau

Florent CARN
Laboratoire de Matière et Systèmes Complexes - Paris

Asma TOUGERTI
Unité de Catalyse et de Chimie du Solide - Université de Lille – Villeneuve d'Ascq
Local Organizing Committee
Sylvie BONARDEL, Synchrotron SOLEIL
Marine CAPODANO, Synchrotron SOLEIL
Camille ENJOMMET, Synchrotron SOLEIL
Frédérique FRAISSARD, Synchrotron SOLEIL
Jean-Marc LUCACCHIONI, Synchrotron SOLEIL
Sylvie PAVAN, Synchrotron SOLEIL
Stéphanie YAO, Synchrotron SOLEIL
Registration
Registration is open: registration link
We offer two types of registrations:
- Face-to-face meeting, with a number of limited seats to 90 people.
- By videoconference, with the possibility of online attendance to the various presentations and sessions.

The registration fee is €100.
It includes: access to the conference on site or on-line, buffet, meals and breaks, as well as possible bus transfers.
| | |
| --- | --- |
| TYPE OF PARTICIPANT | AMOUNT |
| Participant | €100* |
| Invited speaker, Organizing committee, Phd student, SOLEIL staff | Free |
* For the participants of a same laboratory, the following rule is proposed: from 1 to 4 participants: 100€ / from the 5th participant: 50€ (payment by check only).

Please contact: sum2022@synchrotron-soleil.fr for the payment.

Registration dead line is January 5th, 2022.
Terms of payment
Payment by check:
Would you please write it out to "Synchrotron SOLEIL" and write at the verso the following reference:
SOLEIL Users Meeting: SUM2022 / AG 69210603.

Thank you for sending your cheque at the address, here below, together with the registration confirmation sheet or the e-mail of confirmation :
Synchrotron SOLEIL - Bureau des Utilisateurs de SOLEIL - L'Orme des Merisiers Saint Aubin - BP 48 91192 GIF SUR YVETTE Cedex

Payment by bank transfer:
Thank you for transmitting your payment by bank transfer to the following account number: BNP Paris Bas International Bank Account Number (IBAN): FR76 3000 4025 5200 0106 0374 407
Bank Identification Code (BIC): BNPAFRPPIFO Synchrotron SOLEIL

With mentionning your name and the users meeting reference: SUM2022 / AG 69210603.
Your registration will be definitive as soon as your payment will be received.

Payment by credit card:
A payment online is possible. You just have to select this mode of payment when registrating and to follow instructions on INDICO.

For CEA and CNRS participants:
Please send an order form to the following address: sum2022@synchrotron-soleil.fr
Please indicate the name(s) of the participant(s), the service code Chorus Pro and the users meeting reference: SUM2022 / AG 69210603.
Contributions
Deadlines for submission of abstracts:
Oral contributions (Parallel Sessions): November 15th 2021
Other contributions (Posters / Invited talks): January 5th 2022
Best student's poster Award
ON SITE ATTENDANCE FOR STUDENTS WHO PARTICIPATE TO THE POSTER PRIZE IS MANDATORY.
The best poster presented by a student will receive a prize offered by SOLEIL.
This is a mission to a congress up to 1000 € (with original tickets).

For the Best Poster Award, the attendence of the candidate is requested.

The award ceremony will be held on 20/01/2022 evening, before the buffet.
The candidates will be avaluated on the following criteria:
Clear presentation
Scientific interest
Originality
Visual aspects

The poster oral presentation in front of the jury shoud not exceed 5 minutes.
Access to SOLEIL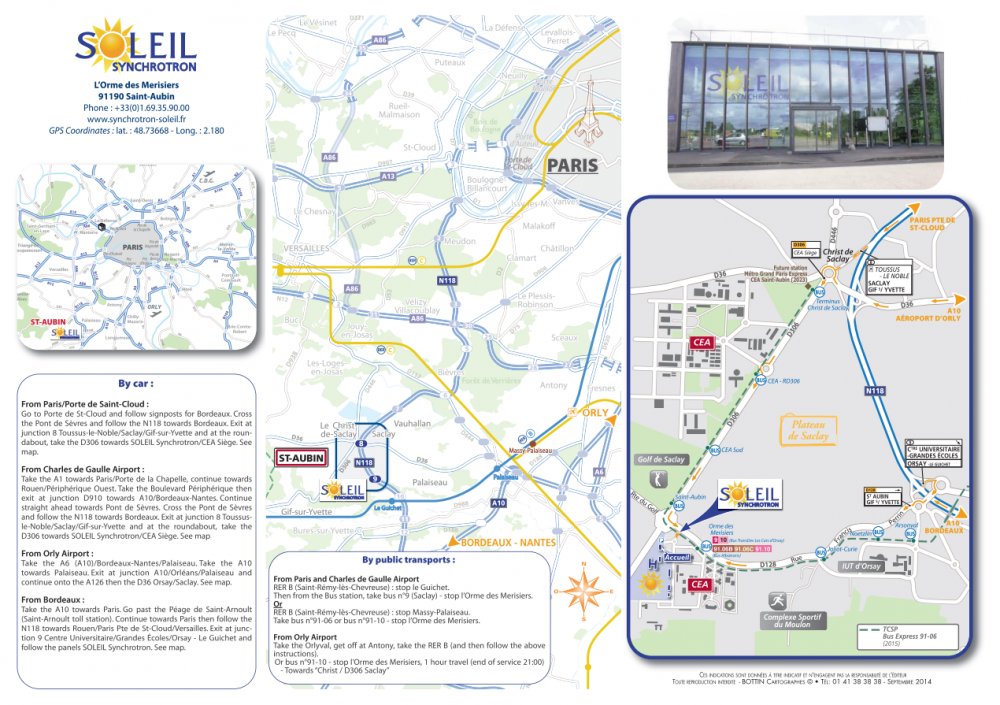 If you come by car:
Geographical address:
Synchrotron SOLEIL
L'Orme des Merisiers
Rond-point du Golf de Saint Aubin
91190 Saint Aubin

Location coordinates:
Latitude : 48.711922
Longitude : 2.146156
Intersection between RD306 and D128
If you come by public transports:
From PARIS and CHARLES-DE-GAULLE Airport:
RER B direction to SAINT-RÉMY-LÈS-CHEVREUSE and stop at:
- 'MASSY-PALAISEAU' station - BUS n°91-06 B ou C direction to SAINT-QUENTIN GARE, stop at 'L'ORME DES MERISIERS'
- 'LE GUICHET' station - walk to the bus station, take bus n°9, direction to SACLAY, stop at 'L'ORME DES MERISIERS'
- 'GIF SUR YVETTE' station, take bus n° 10, stop at 'SAINT AUBIN'

From ORLY Airport - ORLYVAL train:
Stop at ANTONY, take the RER B (then same as above) or BUS n°91-10 direction "Christ / N306, Saclay", stop at "L'ORME DES MERISIERS" (around 1h - end of service at 9 p.m.).
List of hotels (non-exhaustive)
Maison d'Hébergement de SOLEIL - priority to students
L'Orme des Merisiers - 91190 GIF / YVETTE
Tel: +33(0)1 69 35 82 00 - hebergement@synchrotron-soleil.fr
Hôtel Les Chevaliers des Balances - près de SOLEIL
Place de la Mairie - 91190 SAINT-AUBIN
Tél.: +33 (0)1 69 41 20 55 - Fax: +33 (0)1 69 85 50 75
E-mail : leschevaliersdesbalances@gmail.com
Web : www.leschevaliersdesbalances.fr
Hôtel Le Village**
4 rue Neuve - 91190 GIF-SUR-YVETTE
Tél.: +33 (0)1 69 28 82 51 - Fax: +33 (0)1 69 28 53 93
E-mail : hotel.le.village@wanadoo.fr
Web : http://hotellevillage.fr/
Hôtel d'Orsay - près du RER B
2 rue François Leroux - 91400 ORSAY
Tél.: +33 (0)1 64 86 17 47 - Fax: +33 (0)1 64 86 17 48
E-mail : hotel.orsay@orange.fr
Hôtel B&B
Plateau du Moulon - 91190 GIF-SUR-YVETTE
Tél.: +33 (0) 892 78 80 91 - Fax: +33 (0)1 69 35 34 59
Web : http://www.hotel-bb.com/
Hôtel Résidhome Massy**** - près de la gare TGV Massy et du RER B
7 rue Christophe Colomb - 91300 MASSY
Tél.: +33 (0)1 69 81 62 62 - Fax: +33 (0)1 69 81 62 63
E-mail : paris.massy@residhome.com
Web : http://www.residhome.com/aparthotel-147.html
Hôtel du Lion** - à Paris, près du RER B
1 avenue du Général Leclerc - 75014 PARIS
Tél.: +33 (0)1 40 47 04 00 - Fax: +33 (0)1 43 20 38 18
E-mail : contact@hotel-lion.com
Web : http://www.hotel-lion.com/
Hôtel de Senlisse** - à Paris, près du RER B
7-9 rue Malebranche - 75005 PARIS
Tél.: +33 (0)1 43 29 93 10 - Fax: +33 (0)1 43 29 00 24
E-mail : hoteldesenlis@wanadoo.fr
Web : http://www.paris-hotel-senlis.com/
For any information (concerning the Users' Meeting and/or the Thematic Workshop), please contact : sum2022@synchrotron-soleil.fr
SOLEIL User Office
L'orme des Merisiers
St Aubin - BP 48
91192 Gif-sur-Yvette Cedex
FRANCE
Downloads