January 20th and 21th, 2022
•
Synchrotron SOLEIL
List of hotels (non-exhaustive)
The 16th SOLEIL Users' Meeting will take place on January 20th and 21th, 2022 at SOLEIL, if sanitary conditions permit it.
This invaluable forum for the synchrotron radiation users' community will provide the opportunity to exchange and learn about the evolution of the machine and the beamlines. It will be also the occasion to share scientific, technical and practical issues about the synchrotron radiation use.
We invite you to book these dates.
Scientific Committee
BIOLOGIE / SANTÉ

PATRIMOINE / ENVIRONNEMENT / ARCHÉOLOGIE / GÉOSCIENCES

Benoît MASQUIDA
Génétique Moléculaire Génomique Microbiologie - Strasbourg

Rozenn LE HIR
Institut Jean-Pierre Bourgin - Versailles

Simona RANIERI
National Research Council - Institute of Chemistry of Organometallic Compounds – Sesto Fiorentino

Rémi MARSAC
Université de Rennes 1 - Campus de Beaulieu - Rennes

MATIÈRE DILUÉE

PROPRIÉTÉS DE LA MATIÈRE ET DES MATÉRIAUX: STRUCTURE, ORGANISATION, CARACTÉRISATION, ELABORATION

Pierre ASSELIN
De la Molécule aux Nano-objets : Réactivité, Interactions et Spectroscopies - Paris

Héloïse DOSSMANN
Institut Parisien de Chimie Moléculaire - Paris

Amélie BORDAGE
Institut de Chimie Moléculaire et des Matériaux d'Orsay - Orsay

Fabien CHEYNIS
Centre Interdisciplinaire de Nanoscience de Marseille - Marseille

PROPRIÉTÉS ÉLECTRONIQUES ET MAGNÉTIQUES DE LA MATIÈRE – SURFACES ET INTERFACES

CHIMIE ET PHYSICO-CHIMIE – RÉACTIVITÉ IN SITU – MATIÈRE MOLLE

Emmanouil FRANTZESKAKIS
Université Paris Sud - Orsay

Deborah PIERUCCI
Centre de Nanosciences et de Nanotechnologies - Palaiseau

Florent CARN
Laboratoire de Matière et Systèmes Complexes - Paris

Asma TOUGERTI
Unité de Catalyse et de Chimie du Solide - Université de Lille – Villeneuve d'Ascq
Local Organizing Committee
Sylvie BONNARDEL, Synchrotron SOLEIL
Marine CAPODANO, Synchrotron SOLEIL
Camille ENJOMMET, Synchrotron SOLEIL
Frédérique FRAISSARD, Synchrotron SOLEIL
Jean-Marc LUCACCHIONI, Synchrotron SOLEIL
Sylvie PAVAN, Synchrotron SOLEIL
Marine QUERE, Synchrotron SOLEIL
Stéphanie YAO, Synchrotron SOLEIL
Access to SOLEIL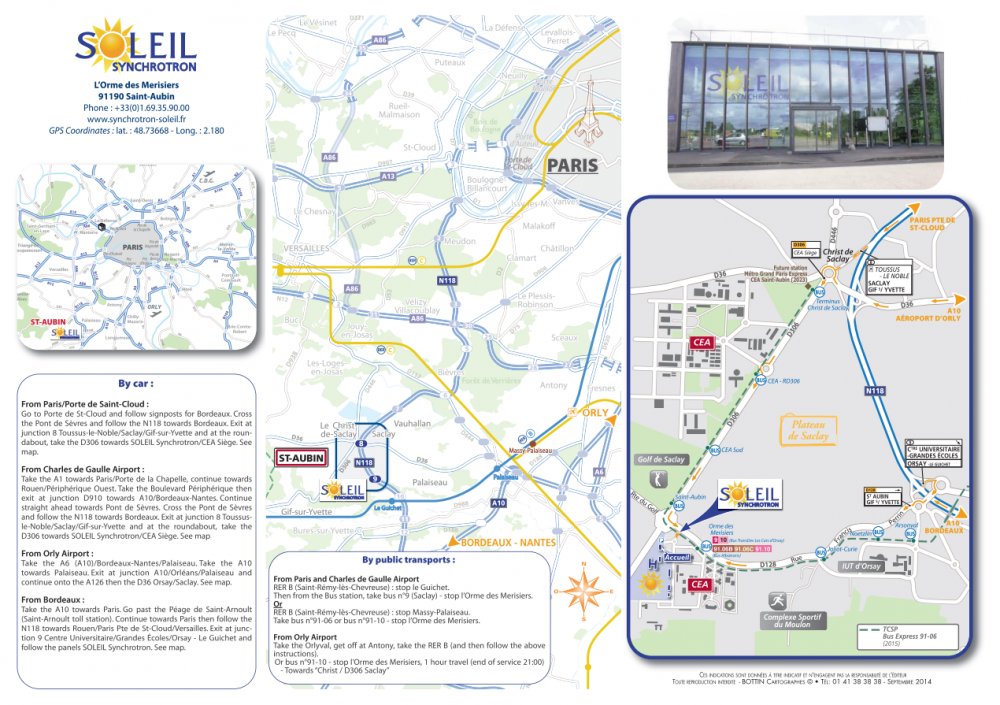 If you come by car:
Geographical address:
Synchrotron SOLEIL
L'Orme des Merisiers
Rond-point du Golf de Saint Aubin
91190 Saint Aubin

Location coordinates:
Latitude : 48.711922
Longitude : 2.146156
Intersection between RD306 and D128
If you come by public transports:
From PARIS and CHARLES-DE-GAULLE Airport:
RER B direction to SAINT-RÉMY-LÈS-CHEVREUSE and stop at:
- 'MASSY-PALAISEAU' station - BUS n°91-06 B ou C direction to SAINT-QUENTIN GARE, stop at 'L'ORME DES MERISIERS'
- 'LE GUICHET' station - walk to the bus station, take bus n°9, direction to SACLAY, stop at 'L'ORME DES MERISIERS'
- 'GIF SUR YVETTE' station, take bus n° 10, stop at 'SAINT AUBIN'

From ORLY Airport - ORLYVAL train:
Stop at ANTONY, take the RER B (then same as above) or BUS n°91-10 direction "Christ / N306, Saclay", stop at "L'ORME DES MERISIERS" (around 1h - end of service at 9 p.m.).
List of hotels (non-exhaustive)
Maison d'Hébergement de SOLEIL - priority to students
L'Orme des Merisiers - 91190 GIF / YVETTE
Tel: +33(0)1 69 35 82 00 - hebergement@synchrotron-soleil.fr
Hôtel Les Chevaliers des Balances - près de SOLEIL
Place de la Mairie - 91190 SAINT-AUBIN
Tél.: +33 (0)1 69 41 20 55 - Fax: +33 (0)1 69 85 50 75
E-mail : leschevaliersdesbalances@gmail.com
Web : www.leschevaliersdesbalances.fr
Hôtel Le Village**
4 rue Neuve - 91190 GIF-SUR-YVETTE
Tél.: +33 (0)1 69 28 82 51 - Fax: +33 (0)1 69 28 53 93
E-mail : hotel.le.village@wanadoo.fr
Web : http://hotellevillage.fr/
Hôtel d'Orsay - près du RER B
2 rue François Leroux - 91400 ORSAY
Tél.: +33 (0)1 64 86 17 47 - Fax: +33 (0)1 64 86 17 48
E-mail : hotel.orsay@orange.fr
Hôtel B&B
Plateau du Moulon - 91190 GIF-SUR-YVETTE
Tél.: +33 (0) 892 78 80 91 - Fax: +33 (0)1 69 35 34 59
Web : http://www.hotel-bb.com/
Hôtel Résidhome Massy**** - près de la gare TGV Massy et du RER B
7 rue Christophe Colomb - 91300 MASSY
Tél.: +33 (0)1 69 81 62 62 - Fax: +33 (0)1 69 81 62 63
E-mail : paris.massy@residhome.com
Web : http://www.residhome.com/aparthotel-147.html
Hôtel du Lion** - à Paris, près du RER B
1 avenue du Général Leclerc - 75014 PARIS
Tél.: +33 (0)1 40 47 04 00 - Fax: +33 (0)1 43 20 38 18
E-mail : contact@hotel-lion.com
Web : http://www.hotel-lion.com/
Hôtel de Senlisse** - à Paris, près du RER B
7-9 rue Malebranche - 75005 PARIS
Tél.: +33 (0)1 43 29 93 10 - Fax: +33 (0)1 43 29 00 24
E-mail : hoteldesenlis@wanadoo.fr
Web : http://www.paris-hotel-senlis.com/
For any information (concerning the Users' Meeting and/or the Thematic Workshop), please contact : sum2022@synchrotron-soleil.fr
SOLEIL User Office
L'orme des Merisiers
St Aubin - BP 48
91192 Gif-sur-Yvette Cedex
FRANCE