June 2 to 7, 2019
•
Sorbonne Université - Campus Jussieu
International Advisory Committee
Local Organizing Committee
The 8th International Conference on Hard X-ray Photoelectron Spectroscopy (HAXPES 2019) to be held in Paris from June 2nd to June 7th 2019.
The conference will cover the most recent and exciting topics in quantum materials, applied science, chemistry, atomic and molecular physics and electron dynamics as viewed by HAXPES, along with the latest technological advances in the field.
The scientific program of HAXPES 2019 will consist of plenary, invited and contributed oral presentations, as well as poster sessions and vendors exhibition.
We look forward to welcoming you to HAXPES 2019 in Paris in June 2019!
Confirmed speakers
HONORARY
C. Fadley - UC Davis, LBNL
PLENARY
S. Biermann - CPhT, CNRS, Ecole Polytechnique
T. Ishikawa - RIKEN SPring-8 Center
T. Marchenko - LCPMR, CNRS, Sorbonne Université
B. Yildiz - MIT Cambridge
INVITED
U. Cappel - KTH Stockholm
D. Céolin - Synchrotron SOLEIL
S. Chamber - Pacific Northwest National Laboratory
H. Fukuzawa - Tohoku University
I. Gierz - CFEL Hamburg
M. Gorgoi - BESSY II, HZB
K. Medjanik - University Mainz
M. Oura - RIKEN SPring-8 Cente
R. Püttner - Freie Universität Berlin
A. Regoutz - Imperila College London
D. Sébilleau - IPR, Université Rennes 1
S. Sheinerman - St. Petersburg University
V. Strocov - Swiss Light Source, PSI
Y. Takagi - JASRI, Spring-8
J. Woicik - NSLS2
Preliminary Programme
Sunday, June 2nd, 2019 : From 05:00 p.m - Welcome reception
Monday, June 3rd, 2019 : Conference day
Tuesday, June 4th, 2019 : Conference day
Wednesday, June 5th, 2019 : Morning: Conference / Afternoon: Visit of the SOLEIL Synchrotron
Thursday, June 6th, 2019 : Conference day and conference dinner
Friday, June 7th, 2019 : Morning : Conference
Chairpersons
Jean-Pascal Rueff, Synchrotron SOLEIL, France
Marc Simon, Sorbonne Université, France
Amina Taleb-Ibrahimi, Synchrotron SOLEIL, France
International Advisory Committee
International Advisory Board and program Committee
Germán Castro, ESRF, France
Ralph Claessen, Universität Würzburg, Germany
Wolfgang Drube, DESY, Germany
Wolfgang Eberhardt, CFEL, Hamburg & T.U. Berlin, Germany
Charles Fadley, University of California, Davis, USA
Sari Granroth, University of Turku, Finland
Alex Gray, Temple University
Eiji Ikenaga, SPring-8/JASRI, Japan
Olof Karis, Uppsala University, Sweden
Keisuke Kobayashi, SPring-8/JAEA, Japan
László Kövér, Institute of Nuclear Research of the Hungarian Academy of Sciences, Debrecen, Hungary
Jan Minar, University of West Bohemia, Czech Republic
Masaki Oura, RIKEN, Japan
Giancarlo Panaccione, Elettra Sincrotrone Trieste, Italy
Piero Pianetta, Stanford
Håkan Rensmo, Uppsala University
D.D. Sarma, Indian Institute of Science, India
Akira Sekiyama, Osaka University, Japan
Marc Simon, Sorbonne Université, Paris, France
Elie Söndergaard, Laboratoire Surface du Verre et Interfaces (CNRS / Saint-Gobain), Paris, France
Shigemasa Suga, Osaka University, Japan/MPI, Halle, Germany
Amina Taleb-Ibrahimi, Soleil Synchrotron, France
Liu Hao Tjeng, Max Planck Institute for Chemical Physics of Solids, Dresden, Germany
Ku-Ding Tsuei, NSRRC, Taiwan
Joseph Woicik, NIST, USA
Jörg Zegenhagen, Diamond Light Source, UK
Local Organizing Committee
Local organizing committee: Synchrotron SOLEIL / Sorbonne Université / LPS Orsay
Margaux Bobet, Synchrotron SOLEIL, France
Véronique Brouet, LPS Orsay, France
Clémentine Esnard, Synchrotron SOLEIL, France
Frédérique Fraissard, Synchrotron SOLEIL, France
Renaud Guillemin, LCPMR, France
Philippe Jonnard, LCPMR, France
Loic Journel, LCPMR, France
Jean-Marc Lucacchioni, Synchrotron SOLEIL, France
David Massot, Sorbonne Université, France
Jean-Pascal Rueff, Synchrotron SOLEIL, France
Marc Simon, Sorbonne Université, France
Amina Taleb-Ibrahimi, Synchrotron SOLEIL, France
Stéphanie Yao, Synchrotron SOLEIL, France
Deadlines
| Type of registration | Open | Deadline |
| --- | --- | --- |
| Early bird | January 2019 | March 31st, 2019 |
| Late registration | April 1st, 2019 | May 12nd, 2019 |
| Abstracts submission | January 2019 | April 12nd, 2019 |
Registration fees
For Participant, Plenary talk, Invited talk, Student and Organizing Committee: Registration include access to conference during five days, meals, Sunday cocktail and conference dinner.
Type of participant

AMOUNT

(including V.A.T)

EARLY
LATE
Participant
600,00€
700,00€
Student
400,00€
500,00€
Keynote talk
Free
Free
Plenary talk
Free
Free
Invited talk
Free
Free
Organizing Committee
Free
Free
Accompanying Person
100,00€
100,00€
95,00€ (conference dinner)
95,00€ (conference dinner)
Terms of payment
PLEASE NOTE: Order forms are not accepted
Payment by cheque:
Would you please write it out to "Synchrotron SOLEIL" and write at the verso the following reference:
HAXPES 2019 - 69180606
Thank you for sending your cheque at the address, here below, together with the registration confirmation sheet or the e-mail of confirmation:

Synchrotron SOLEIL
Bureau des Utilisateurs de SOLEIL
L'Orme des Merisiers
Saint Aubin - BP 48
91192 GIF SUR YVETTE Cedex
Payment by bank transfer:
Thank you for transmit your payment by bank transfer to the following account number:

BNP Paris Bas
International Bank Account Number (IBAN): FR76 3000 4025 5200 0106 0374 407
Bank Identification Code (BIC): BNPAFRPPIFO
Synchrotron SOLEIL

With mentionning your name and the users meeting reference: HAXPES 2019 - 69180606
Your registration will be definitive as soon as your payment will be received.
Payment by credit card:
A payment online is possible.
You just have to select this mode of payment when registrating (available soon) and to follow instructions.
Or, if you are already registered, by clicking on this link (available soon)
Adress
Campus Jussieu - Pierre and Marie Curie University
4 place Jussieu
75005 Paris
Venue information
The meeting will take place Sunday 2nd to Friday 7th June, 2019, at Campus Jussieu.
The Campus Juss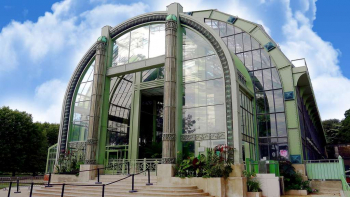 ieu is located in the 5th arrondissement, the oldest in the city of Paris. Located on the left bank of Paris, it covers most of the magnificent Latin Quarter. Many public institutions reside in this district: 'Ecole Normale Supérieure' (ENS), National School of Chemistry of Paris (ENSCP), the Currie Institute, the Ministry of Research or Sorbonne University which includes the Campus Jussieu. The 5th arrondissement is also full of monuments such as the Pantheon, La Sorbonne and famous gardens like the 'Jardin des Plantes de Paris'.
By taxi - Airport to Campus Jussieu:
The Campus Jussieu is located :
From Paris Airport - Roissy Charles De Gaulle : 35km (55 min)
From Paris Airport - Orly : 16km (35 min)

The price of a journey by taxi is:
Between Paris-Orly airport and Paris 'left bank': €30. More information on the Orly Airport website
Between Paris-Charles de Gaulle airport and Paris 'left bank': €55. More information on the airport website Roissy-Charles de Gaulle
By train:
From Paris-Charles de Gaulle Airport 2 - TGV
Proposal 1:
Take the RER B towards : Orsay or Massy or Saint-Rémy-les-Chevreuses. Be careful, make sure that it stops at the station 'Saint-Michel-Notre-Dame'
Get off at the station 'Saint-Michel-Notre-Dame' and walk about 2 min towards Pierre and Marie Curie University - Jussieu Campus.

Proposal 2:
Take the RER B towards : Orsay or Massy or St-Rémy-les-Chevreuses. Be careful, make sure that it stops at the station 'Châtelet-Les Halles'
Get off at the station 'Châtelet-Les Halles' and take the subway 7 towards 'Mairie d'Ivry'.
Get off at the station 'Jussieu' walk about 16 min towards Pierre and Marie Curie University - Jussieu Campus
From Orly Airport
Take the tram 7 towards 'Villejuif-Louis Aragon' and get off at the station 'Villejuif-Louis Aragon
Take the subway 7 towards 'La Courneuve 8 mai 1945' and get off at the station Jussieu
Walk about 2 min towards 'Campus Jussieu'
From Nord station
Proposal1:
Take the RER B towards : Robinson or Orsay, Massy or Saint-Rémy-les-Chevreuses.
Be careful, make sure that it stops at the station 'Saint-Michel-Notre-Dame'
Get off at the station 'Saint-Michel-Notre-Dame' and walk about 2 min towards Pierre and Marie Curie University - Jussieu Campus.

Proposal 2:
Take the RER B towards : Robinson or Orsay, Massy or Saint-Rémy-les-Chevreuses.
Be careful, make sure that it stops at the station 'Saint-Michel-Notre-Dame'
Take the subway 10 towards 'Gare d'Austerlitz'
Get off at the station 'Jussieu' and walk about 2 min towards Pierre and Marie Curie University - Jussieu Campus
From Lyon station
Take the subway 14 towards 'Gare St Lazare' and get off at the station 'Châtelet-Les Halles'
Take the subway 7 towards 'Mairie d'Ivry' and get off at the station 'Jussieu' and walk about 2 min towards Pierre and Marie Curie University - Jussieu Campus
From Austerlitz station
Take the subway 10 towards : Boulogne/Pont de St Cloud.
Get off at the station 'Jussieu' and walk about 2 min towards Pierre and Marie Curie University - Jussieu Campus
From Gare Saint-Lazare station
Take the subway 14 towards 'Olympiades' and get off at the station 'Pyramides'.
Take the subway 7 towards 'Villejuif – Louis Aragon' and get off at the station 'Jussieu' and walk about 3 min towards Pierre and Marie Curie University – Jussieu Campus
From Montparnasse station
Proposal 1:
Take the subway 13 towards : Asnieres Gennevilliers les Courtilles
Get off at the station 'Duroc' and take the subway 10 towards 'Gare d'Austerlitz'
Get off at the station 'Jussieu' walk about 2 min towards Pierre and Marie Curie University - Jussieu Campus.

Proposal 2:
Take the subway 6 towards : 'Nation' and get off at the station 'Place d'Italie'
Take the subway 7 towards 'La Courneuve 8 Mai 1945' and get off at the station 'Jussieu'
Walk about 2 min towards Pierre and Marie Curie University - Jussieu Campus
Downloads