18 & 19 janvier 2024
•
SOLEIL Synchrotron
Thursday, January 18th, 2024
Friday, January 19th, 2024
Local Organisation Committee
List of hotels (non exhaustive)
The 18th SOLEIL Users' Meeting will take place on Thursday January 18th and Friday 19th, 2024 at SOLEIL.

This invaluable forum for the synchrotron radiation users' community will provide the opportunity to exchange and learn about the evolution of the machine and the beamlines.
It will be also the occasion to share scientific, technical and practical issues about the synchrotron radiation use.
We invite you to save the date.
Calendar:
Oral contributions deadline: November, 13th 2023
Registration & other contributions (posters and invited talks) deadline: January, 3rd 2024
Thursday, January 18th, 2024
SOLEIL Auditorium - Main Building
09:00 - 10:00
Registration & coffee - Cafeteria Space near SOLEIL Auditorium - Main Building
10:00 - 10:10

Welcome / Introduction, ORGUES Chair
Amélie Bordage

10:10 - 10:50

The word of SOLEIL General Director
Jean Daillant

10:50 - 11:35
PLENARY TALK – Dynamic, Reactivity and Chemical analysis
11:35 - 11:55

Peer Review Committee

11:55 - 12:30

AFURS / ESUO / ORGUES
Opened questions session

12:30 - 13:45
Lunch
14:00 - 16:00
Parallel sessions – 3 different auditoriums (see the detailed programme below, in the "Documents to download" section)

Dynamic, Reactivity & Chemical analysis (Diluted Matter & Chemistry)
Health & well-being, Environment & Geosciences, Cultural Heritage
Advanced Materials (Structure / Electronic Properties /Surfaces & Interfaces)

16:00 - 16:30
Coffee break - Cafeteria Space near SOLEIL Auditorium - Main Building
16:30 - 18:00
Parallel sessions – 3 different auditoriums (see the detailed programme below, in the "Documents to download" section)

Dynamic, Reactivity & Chemical analysis (Diluted Matter & Chemistry)
Health & well-being, Environment & Geosciences, Cultural Heritage
Advanced Materials (Structure / Electronic Properties /Surfaces & Interfaces)

18:00 - 20:00

Posters session / Commercial Exhibitors

20:00 - 21:30

Award of the best student poster / Dinner
Friday, January 19th, 2024
SOLEIL Auditorium - Main Building
09:00 - 10:45
Parallel sessions – 3 different auditoriums (see the detailed programme below, in the "Documents to download" section)

Dynamic, Reactivity & Chemical analysis (Diluted Matter & Chemistry)
Health & well-being, Environment & Geosciences, Cultural Heritage
Advanced Materials (Structure / Electronic Properties /Surfaces & Interfaces)

10:45 - 11:15

Coffee break – Cafeteria Space near SOLEIL Auditorium - Main Building

11:15 - 12:30

Round Table - SOLEIL Auditorium - Main Building

12:30 - 13:45
Lunch
14:00 - 15:00

Visit of 3 Beamlines (ANTARES / CRISTAL / DEIMOS)

15:00 - 17:00

Tutorial 1 - FASTOSH for beginners

Tutorial 2 - Open Data Software (VISA)
Scientific Committee
BIOLOGY / HEALTH

CULTURAL HERITAGE/ ENVIRONNMENT / ARCHAEOLOGY/ GEOSCIENCES

Paloma FERNANDEZ VARELA
Institut de Biologie Intégrative de la Cellule - INSB - Gif-Sur-Yvette

Benoît MASQUIDA
Génétique Moléculaire Génomique Microbiologie - Strasbourg

Charlotte CATROUILLET
Institut de Physique du Globe de Paris - INSU - INEE - Paris

Simona RANERI
National Research Council - Institute of Chemistry of Organometallic Compounds – Pisa (Italy)

DILUTED MATTER

MATTER & MATERIAL PROPERTIES: STRUCTURE, ORGANISATION, CHARACTERISATION, ELABORATION

Pierre ASSELIN
De la Molécule aux Nano-objets : Réactivité, Interactions et Spectroscopies - Paris

Héloïse DOSSMANN
Institut Parisien de Chimie Moléculaire - Paris

Amélie BORDAGE
Institut de Chimie Moléculaire et des Matériaux d'Orsay - Orsay

Fabien CHEYNIS
Centre Interdisciplinaire de Nanoscience de Marseille - Marseille

ELECTRONIC & MAGNETIC PROPERTIES OF MATTER - SURFACES & INTERFACES

CHEMISTRY & PHYSICO-CHEMISTRY – REACTIVITY IN SITU – SOFT MATTER

Sara GONZALEZ
Institut de Nanotechnologies de Lyon - INSIS - INC - Villeurbanne

Debora PIERUCCI
Institut des NanoSciences de Paris - Paris

Florent CARN
Laboratoire de Matière et Systèmes Complexes - Paris

Asma TOUGERTI
Unité de Catalyse et de Chimie du Solide - Université de Lille – Villeneuve d'Ascq
Local Organisation Committee
Marine CAPODANO, Synchrotron SOLEIL
Camille ENJOMMET, Synchrotron SOLEIL
Frédérique FRAISSARD, Synchrotron SOLEIL
Jean-Marc LUCACCHIONI, Synchrotron SOLEIL
Sylvie PAVAN, Synchrotron SOLEIL
France ROUET, Synchrotron SOLEIL
Stéphanie YAO, Synchrotron SOLEIL
SOLEIL Access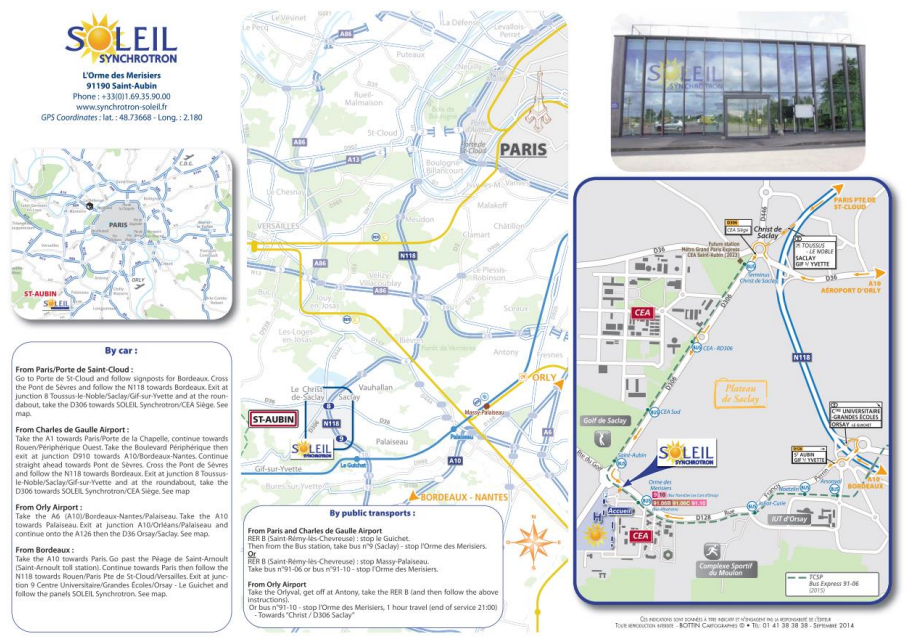 If you come by car:
Geographic Address:
Synchrotron SOLEIL
l'Orme des Merisiers
Départementale 128
91190 Saint Aubin

GPS coordinates:
Latitude: 48.711922
Longitude: 2.146156
at the intersection of RD306 and D128
If you come by public transport:
From PARIS and CHARLES-DE-GAULLE airport
RER B direction SAINT-RÉMY-LÈS-CHEVREUSE until:

the station "MASSY-PALAISEAU" then BUS no. 91-06 B or C direction SAINT-QUENTIN GARE, stop "L'ORME DES MERISIERS".
Timetable bus 91-06

the station "LE GUICHET" then join the bus station, take bus no. 9, direction SACLAY, stop "L'ORME DES MERISIERS".
Timetable bus 9

station "GIF SUR YVETTE", take bus no. 10, stop SAINT AUBIN
Timetable bus 10

From Orly Airport, take the ORLYVAL, get off at ANTONY, take the RER B (see above) or take the BUS n°91-10 direction "Christ / N3"
Timetable RER B
List of hotels (non exhaustive)
For any questions, thank you to contact :
sum2024@synchrotron-soleil.fr
SOLEIL User Office
L'orme des Merisiers
Départementale 128
91190 Saint-Aubin
FRANCE