October 9-11, 2019
•
Synchrotron SOLEIL
The aim of this CNRS national training (Action Nationale de Formation) is to give the course participants an up to date overview of existing HP Large Volume techniques and methods and the relevant information that can be extracted from them. This course will give them the ability to choose the experimental setups and procedures that are best suited to their own research.
Two topics will be developed:
Laboratory methods, in particular the synthesis under extreme conditions with all the precautions that must be respected for a better characterization of the recovered sample.
In-situ methods where large volume setups are coupled with large instruments facilities (synchrotron and neutron sources). The organization of the course at the synchrotron SOLEIL will allow the participants to familiarize themselves with this kind of environment and to get a better knowledge of all the possibilities that are offered on such instruments.

Registration :
https://www.vjf.cnrs.fr/limesurvey2/index.php/228654/lang-fr

Organizing committee :
Nicolas GUIGNOT, Synchrotron SOLEIL, Saint-Aubin
Yann LE GODEC, IMPMC, Paris
Julien CHANTEL, UMET, Lille

Come to SOLEIL :
https://www.synchrotron-soleil.fr/en/come-soleil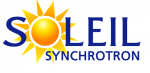 Mercredi 9 octobre
PROGRAMME PREVISIONNEL
10:00 - 10:30
Accueil, tour de table, présentation des intervenants

SESSION "LES DISPOSITIFS GROS VOLUME CLASSIQUES"

10:30 - 11:00

Cours : "Panaorama des installations HP Gros Volume en France"
Yann Le Godec

11:00 - 11:30
Cours : "Les dispositifs Belts"
Alain Largeteau
11:30 - 12:00
Cours : "Autoclave"
Alain Prat
12:00 - 12:30
Cours : "Les dispositifs Conac"
Céline Goujon
12:30 - 13:30
Déjeuner au Retaurant SOLEIL
13:30 - 14:00
Cours : "Les presses Paris-Edimbourg"
Yann Le Godec
14:00 - 14:30
Cours : "Les presses Piston-Cylindre"
Julien Siebert, Julien Chantel
14:30 - 15:15
Cours : "Les presses multi-enclumes"
Fang Xu
15:15 - 15:45
Pause et questions diverses
15:45 - 17:45
TP : "Assemblages et expériences multi-enclumes"
Fang Xu
Jeudi 10 octobre
PROGRAMME PREVISIONNEL
09:00 - 11:00
Fin du TP "Assemblages et expériences multi-enclumes"
Fang Xu
11:00 - 11:30
Cours : "Choix des Matériaux pour les expériences HP Gros Volume : joints, fours, isolants électriques et thermiques, etc"
Yann Le Godec et Fang Xu
11:30 - 12:00
Cours : "Calibrations (P,T) des presses GV"
Geeth Manthilake et Julien Chantel
12:00 - 14:00
Déjeuner au Restaurant SOLEIL

SESSION "EXPERIENCES GROS VOLUME EN LABORATOIRE ET IN SITU"

14:00 - 14:30
Cours : "Mesures ultrasonores en Presse multi-enclumes et conductivité thermique"
Geeth Manthilake ou Julien Chantel
14:30 - 15:00
Cours : "Expériences de déformations en gros volume : D-DIA et roPEc sur synchrotron"
Nadège Hilairet ou Julien Chantel
15:00 - 15:30
Pause et questions diverses
15:30 - 17:30
TP de synthèse en presse Paris-Edimbourg
Yann Le Godec
Vendredi 11 octobre
PROGRAMME PREVISIONNEL
09:00 - 10:00
Cours "Techniques in situ en gros volume (diffraction, EXAFS, diffraction 2D, CAESAR, Tomo, tomo déformation)"
Jean-Paul Itié et Nicolas Guignot
10:00 - 10:15
Présentation du réseau HP
Yann Le Godec
10:15 - 10:45
Pause
10:45 - 11:30
Visite des installations SOLEIL
Jean-Paul Itié et Nicolas Guignot
11:30 - 12:00
Conclusions et questions diverses
12:00
Déjeuner au Restaurant SOLEIL